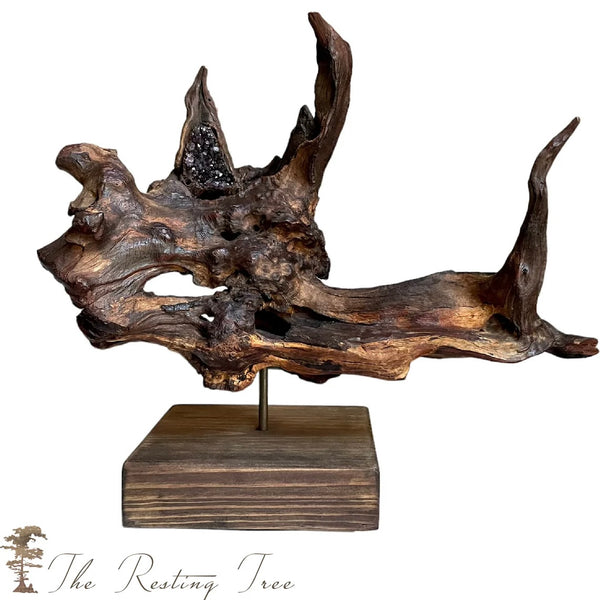 Introducing... The Resting Tree
Experience the warmth and comfort of handcrafted, Wood Urn Sculptures.
Each piece contains beautiful, organic shapes and textures that are Completely Unique.
See Whats New
Love Transcends life
🤍 With all the urns available on the market, finding the perfect keepsake, to honor the dearly departed, can be a very difficult task.
Sacred Spirit Relics warmly welcomes you to shop for unique urn creations, that are always loving crafted. Hopefully here, within my one woman shop, I help make that task just a tiny bit easier... and you are able to find a memorial, that matches the frequency of your one of a kind soul.
From my heart to yours,
Irene Meiller

What To Put Inside An Urn Necklace
Wearing a special memory close to your heart can be such a beautiful way to help comfort, or honor a moment in time. 🙏🏻 
You can put anything from... ashes to burial soil, strands of hair, sand/ soil from a special place, or any other sacred items you can think of.
SHOP FOR URN NECKLACES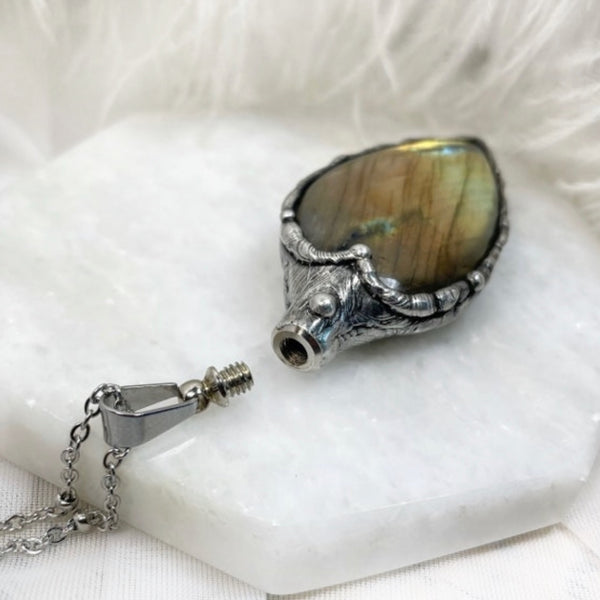 Over 3500 Testimonials... Here are just a few!
Five stars for absolutely everything! 🌟 There was so much love & attention put into the customer service and creation of the necklace that I received. This is a bittersweet product to purchase, but I could not be happier with my decision to trust Sacred Spirit Relics to manifest exactly what I wanted.

Ashley Mendoza
It took a lot of searching to find what I felt was right and for not only my style but the personality of my pet. This pendent is everything I wanted. It was perfect timing with it arriving the day before my birthday. Thank you for making beautiful jewelry to keep my fur baby close to my heart always. It really meant a lot today because I just lost another pet unexpectedly. I own rats and unfortunately they don't live long so I'm glad to carry my baby with me.

Lainie
I highly recommend using Irene! I reached out to Her to do a custom piece. I wanted a pendent to hold my twin brothers ashes. She has gone above and beyond, the quality of craftsmanship is amazing. Thank you so much for listening, being apart of this process!

William Macneil
Irene is a gift to the world. I will forever be grateful for her creativity and talents. She took three bracelets my grandfather gifted to me during childhood, and transformed them into a custom urn necklace. I constantly stare at this special creation - it makes me feel close to my grandfather and it brings me so much peace and joy. THANK YOU! Truly - from the bottom of my heart - I will forever treasure this.

Shy Ann
Just wow. Where do I begin ☺️ From start to finish Irene has been the most wonderful person to deal with. She has really helped me at this very difficult time after losing my brother, not only just through making this custom piece but through her kind words and empathy also. Her work is utterly beautiful and as you can see, so much thought and care went into the piece. Thanks so very much Irene, you are special

☺️🙏🏻🐋🌿💚💐

rodney hodkinson
Irene went above and beyond with this special piece. She has a natural talent of bringing her art to life in a way that feels warm and loving. The detail and cleanliness of the design is exquisite. She even put a detailed texture on the back that I can touch for and added sense of calmness/security. I can't begin to describe how much I love this piece. Thank you so much Irene. You are a beautiful soul! 💜

Kaddie Rogowski
I absolutely love my pendant. The entire process was such a blessing during one of the hardest moments I've ever been through. The level of care and communication I received surpassed any expectation I may have had. I'm grateful to have found Sacred Spirit Relics and I know anyone who buys a piece from this shop is going to receive so much more than they expected ..love,respect and a beautiful way to honor a loved one who has passed. Thank you for helping keep my girl close to my heart, always. You and your art are a beautiful light in this world, Blessed Be 🧡

Ashley Broker
Not only is my custom urn necklace beautiful and perfect for what I wanted represented for my partner, Irene's whole process is very cathartic. To be able to tell an artist about your loved one you've lost and have them walk through with you to custom design a piece to cherish and help you with your grief is a real gift. Thank you so much Irene your talent and compassion are amazing ❤️

Courtney D'Arthenay
Absolutely beautiful - I am so grateful for the craftsmanship + love that went in to my custom necklaces. The most appropriate place to keep a part of my loved one. Highly recommend - will not disappoint. Thank You

Ginger Kennelly